Free Plugin A1 Stereo Control AU/VST
|
A1StereoControl is a free audio plugin  that enables you to expand or decrease the stereo width of your tracks using a single knob. The plugin can be used on single tracks, groups of tracks, or on a master bus.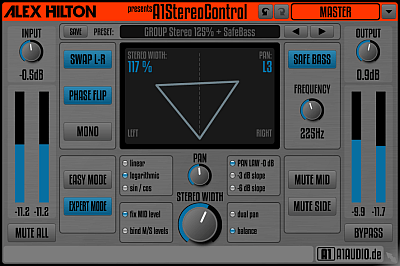 A1StereoControl Features
Increase or decrease stereo width from 0% to 200%.
Safe Bass algorithm: centers all bass frequencies below an adjustable value.
Expert Mode, with tooltips in the GUI.
Expert Mode features different pan laws, pan curves, balance mode and dual panning.
Resizable GUI, with two Colour Schemes
13 Factory Presets.
Linear phase.
Phase Flip.
Swap left and right input channel.
Mono Mode.
Undo / Redo.
Disclosure of Material Connection: Some of the links in the post above and on this site may be "affiliate links." This means if you click on the link and purchase the item, I will receive an affiliate commission. Regardless, I only recommend products or services I use personally and/or believe will add value to my readers.
To Learn more about affiliate marketing and how to make money online join me on Wealthy Affillate. These guys offer: Free Membership, Websites & Training to get you started.