World's Top Musicians Loops, Tutorials & More The Loop Locker
|
Get Exclusive Access to The World's Top Musicians: Their Loops, Tutorials and More.
The Loop Locker is made by loop guru, Ryan Gruss the same guy behind The Loop Loft. The Loop Locker offers exclusive access to some of the world's top musicians loops tutorials. The Loop Locker records the world's best musicians in the world's top studios and bring their groove, sample packs, and musical DNA straight into your production.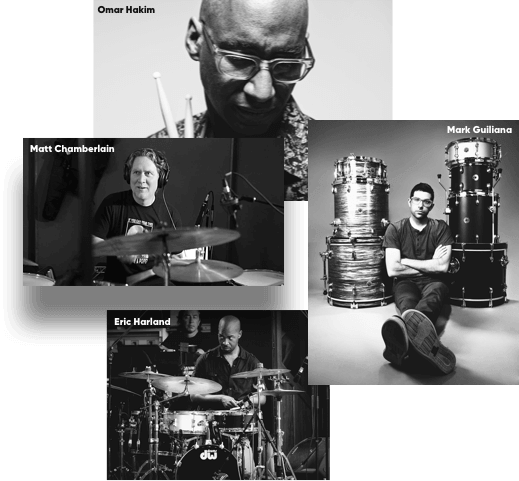 The Loop Locker Features
24 New Loop Libraries. All-Star Roster From legendary musicians like Omar Hakim (Sting, Daft Punk) to Nate Smith (Michael Jackson, Solo) to Matt Chamberlain (Kanye West, David Bowie) & many more, The Loop Locker gives you unprecedented access to studio legends.
Unlocked Each Year + Bonuses (Over $1100 in Loops)
Premium Loop Formats. Loops work in any music software. Whether you use Ableton (Ableton Live Packs), Reason (Reason Refills), Logic, Pro Tools or any other DAW. All loops are 100% royalty-free.
MIDI + Stereo Loops & Samples
Access Training Courses. Everything from composition, producing, mixing, mastering to marketing your music the right way. All instructors are world-class artists and experts.
All Basic Courses Included + 3 Premium Courses
Private Facebook Group Access
Loyalty Bonuses
Every 3 months you'll receive hundreds of dollars worth of FREE additional content and software just for being a member.
Get instant access to over $120 of premium loops, training courses, the private Facebook group and more inside the "Loop Locker Membership Area". Each month you'll unlock new loops & samples for download, along with new courses & other content.
Disclosure of Material Connection: Some of the links in the post above and on this site may be "affiliate links." This means if you click on the link and purchase the item, I will receive an affiliate commission. Regardless, I only recommend products or services I use personally and/or believe will add value to my readers.
To Learn more about affiliate marketing and how to make money online join me on Wealthy Affillate. These guys offer: Free Membership, Websites & Training to get you started.