1860 Drum Hits Sounds in HD Bundle: From Crunchy Acoustic Blends To The Ultra Processed
|
Sounds In HD have brought out 5 uniquely brilliant kits to the market. From crunchy acoustic blends to the ultra processed, knife through butter HD collection.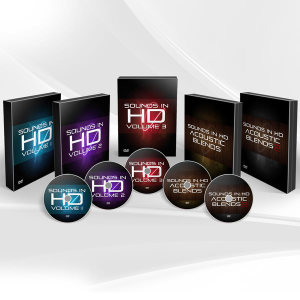 SOUNDS IN HD: VOLUME 1
The first in the series. Processed using the avalon 737 – ultra clean and modern HD drums. 221 drums in total – including pounding kicks, insanely crispy snares, percussion elements, hats, cymbals and bonus loops!
SOUNDS IN HD VOLUME 2
675 samples, amazing quality and versatile. Split into subections: Synth Drums – recored direct from expensive and rare hardware – low bit, crunchy and awesome. Lo-Fi: Authentic, old skool and gritty. These were recorded from synth sounds overlayed with acoustic recordings. perfect for old skool hip hop. Acoustic: Ever wanted those danja style kicks? These samples were recorded at Studio E in Philadelphia using pristine mics and pre-amps including the Avalon 737, CAD, Focusrite, Drawmer, and more. The rim shots in this package are ear rattling, and kicks are hollow and punchy. Real acoustic kits from Tama, Pearl Rhythm, Traveler and Century GC52-73 were used to construct this section of SIHD Vol 2.
SOUNDS IN HD: VOLUME 3
250 Samples – more of the same great HD drums – this is the latest in the HD collection.
SOUNDS IN HD: ACOUSTIC BLENDS
Featuring 154 superb acoustic samples. Recored with the Avalon 737, Focusrite, Drawmer and more for thick raw samples. Layed with textures, tones, and unusual samples for a fresh unique sound.
SOUNDS IN HD: ACOUSTIC BLENDS 2
260+ brand-new sounds. The designers at Sounds in HD held nothing back, adding new processing from analog beast such as the API A series Equalizers, and the new Elysia Xpressor 500. This new kit was heavily influenced by super producer Danja, and features 60 extra samples (kicks, snares etc.) all designed using secret industry techniques developed over the years.
BONUS – This bundle has now been updated, and also includes a FREE copy of Sounds In HD Distorted Blends. Just buy the bundle and this product will come included in your download
Disclosure of Material Connection: Some of the links in the post above and on this site may be "affiliate links." This means if you click on the link and purchase the item, I will receive an affiliate commission. Regardless, I only recommend products or services I use personally and/or believe will add value to my readers.
To Learn more about affiliate marketing and how to make money online join me on Wealthy Affillate. These guys offer: Free Membership, Websites & Training to get you started.